Funding community renewable projects
• Written by Madina Knight, Michael Elwood-Smith

Communities around the world are stepping up to the major challenge of our times by building a regenerative low carbon economy.
This movement is picking up pace, with people around the world benefiting from job creation, better environment with less pollution and the knowledge that they are doing their part to ensure that their children will inherit a habitable planet.
The Low Carbon Society (TLC Society) are spearheading this movement in Cornwall, UK by supporting and investing in innovative renewable energy projects in their area.
With support from Cornwall Council, TLC Society make loans for community renewable energy projects in Cornwall, United Kingdom. These vary from small 4 kWp solar to 500 kWp wind turbine installations in local schools, charities, community facilities and farms.
The Low Carbon Society (TLC Society) was established in 2010 to provide loan financing tailored specifically to the needs of community renewables schemes. So far, TLC Society has lent over 3 million pounds to fund more than 35 installations.

The challenges with running an open, democratic selection process
TLC Society is committed to running an open, peer-reviewed democratic process in assessing loan application. Typically, loan applications are assessed against 18 criteria, which includes a review of the business plan, insurance, value and assessment of the overall benefit to the community.
At the same time, running such a rigorous process can be incredibly time-consuming and personally taxing on the selection team.
Prior to using Loomio, TLC Society had to convene peer review panel members from across Cornwall, spending long hours in meetings, and sometimes struggling to get through one application in a meeting.
TLC Society needed a way for the loan assessment team to work through applications without long meetings, to involve applicants in the process (especially when more information was needed) and to bring in Council officers at the sign off stage – all while ensuring information is stored for easy retrieval, and that progress and decisions are transparent. They chose Loomio.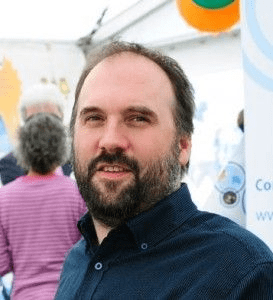 "We now run our entire loan assessment process for renewable energy projects through Loomio, saving many hours we would otherwise need to spend in meetings." — Paul Martin, Executive Director, The Low Carbon Society
Selecting outstanding projects on Loomio
Using Loomio to manage this detailed process has enabled most work to be done online, saving meeting time and travel costs.
With Loomio, TLC Society is able to involve the people needed at each stage, make timely funding decisions for community energy projects, and to review the record for audit purposes.
"When we meet as officers, we sit together with a laptop in front of each of us with Loomio open, and go through each criteria inputting stuff to Loomio, making note of questions on Loomio and, later in the process, asking questions of the applicant on Loomio." - Paul Martin, Executive Director, The Low Carbon Society
Threads are used to process the application directly into Loomio, so a separate application form is no longer required. Membership is managed by inviting the applicant into the group, and then the applicant leaves to allow the credit committee private deliberation and decision making. Similarly, Council officers are invited into the group as guests for final sign off.
Overall, Loomio helps The Low Carbon Society work more effectively in an open, transparent manner. It is an honor to play a small part in the energy transformation story by enabling community groups like TLC Society to work better together.
If organizations like TLC Society are anything to go by, an energy transformation may well be on its way with renewable energy efforts mobilizing at a grassroots level.
Tags: Case studies Activism Customer stories Articles and Interviews
---
Would you like to keep in touch?
Join the Loomio newsletter to hear about product updates, upcoming events and stories from organizations using Loomio.
Delivered every 2 or 3 months.