How OuiShare is Scaling a Shared Vision Across Countries
• Written by Alanna Irving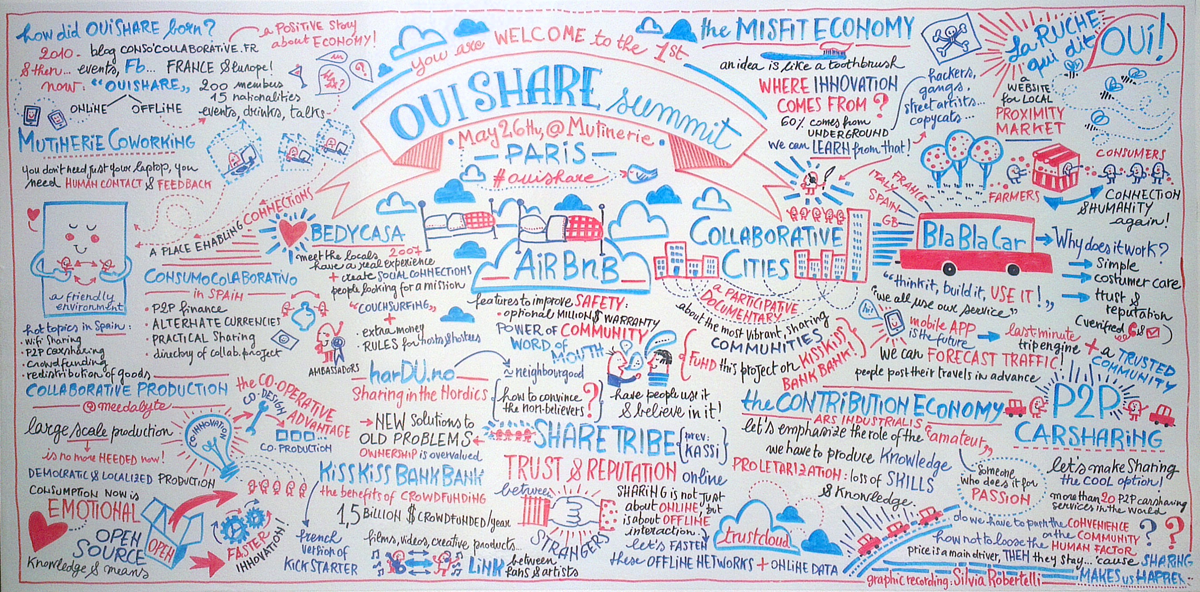 Alanna met Benjamin Tincq and Francesca Pick at POC21, an open source hardware innovation camp in a castle in France, which OuiShare was a core convener of. They stepped out to share how they collaborate as a large-scale international distributed community.
OuiShare is a collective – an international community focusing on the collaborative economy and open source.
We produce knowledge, organise events, and connect people, ideas and projects around the sharing economy, fab labs, crowdfunding, the peer-to-peer economy, and society in general.
When Facebook and Email Just Don't Cut It Anymore
OuiShare really started a lot with Facebook. That was really the core, how people were able to keep in touch.
We always had this one very important Facebook group, called OuiShare Connectors, which was where all important announcements were made. And sort of maybe decisions, but not really.
Facebook is really hard to document. So we weren't able to find old discussions – they just disappear. There's no way to have any reference.
As the community expanded, and we had local groups in many cities and countries. We felt that OuiShare Summits – the time where Connectors gather twice a year to debrief on the past 6 months, develop new projects, and take decisions – couldn't really be the place for all the decisions we need to take along the way.
Some decisions can be taken by local groups, like the Paris Community, the Barcelona Community, etc. But some decisions have implications for everybody. It's very hard to discuss and reach consensus with just email and Facebook groups.
We realised that we weren't really making any decisions at all, almost, as a collective. We didn't have a good space in which that could work.
The Right Tool for Scaling Collaboration
Loomio was at the second OuiShare Fest and won the OuiShare awards, so that's how we found out about it.
I've looked at a couple different decision-making tools, but that one was just very intuitive – it was pretty clear how it works.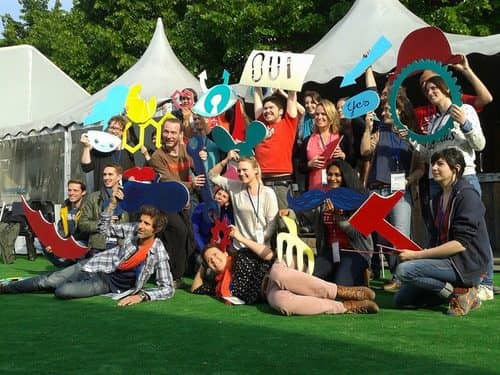 We were not trying to have proper decisions online before using Loomio.
Sometimes in Google Hangouts, because it's closest to a face-to-face meeting, sometimes in polls on Facebook, or a few email threads. But with the increase in the number of contributors – the Connectors, the active community members of OuiShare – it just couldn't work.
We tried Loomio when we felt we needed to take decisions between Summits and there were too many people to solve them in just a Google Hangout.
Accessible Engagement and Transparency
The moment we started using Loomio, people that I had not heard from in a long time suddenly started popping up.
Maybe they just voted, because that feel great. You can just do your little 'like'. It really increased engagement.
That's one of the benefits of being very open – sometimes contributions just come from somewhere, surprisingly. It's good if it's possible for that to happen.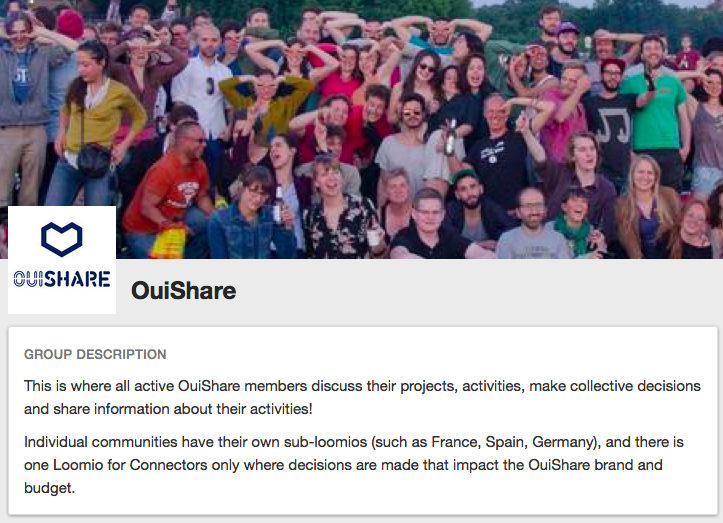 OuiShare's Loomio group – it's public so check it out
Loomio is now the place for people who want to launch and new discussion, whether it's a debate or a practical or strategic discussion, in OuiShare. A large part of the discussions then generate decisions that need to be taken. In that case, we create proposals and try to agree on the decisions.
We can use this tool to enable us to make decisions. We don't even do them offline, almost.
Just go online, even if we're sitting in one room, because that way we can read everything in detail.
You have all the information, and somehow it's a bit easier to follow. And people also have time to reflect.
Building Shared Understanding for Complex Decisions
From now on we will no longer use the OuiShare nonprofit as a host for taxable activities. Since we sell tickets to OuiShare Fest, and we have sponsors, it's considered a commercial activity.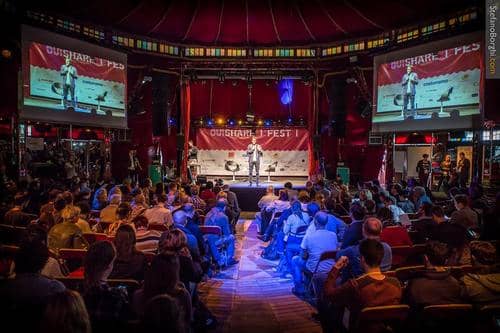 There was a lot of debate, philosophically. Should we create a company for OuiShare Fest? Does it belong to the community? Or is it like the relationship of an organiser and provider? Or a partner? What should the relationship be?
There were a lot of technical points, but also emotional reactions from people. It took a lot of discussion to explain. That was one of the most discussed – but in the end, almost everybody really understood the reasons for it, so we agreed on that decision.
Enabling the Networks of the Future
You need to be able to create trust. People want to understand what's going on. That's why I think transparency is important.
There's a lot of people out there, and really a need for a lot of documentation: being able to show this decision was made, it was agreed by everyone.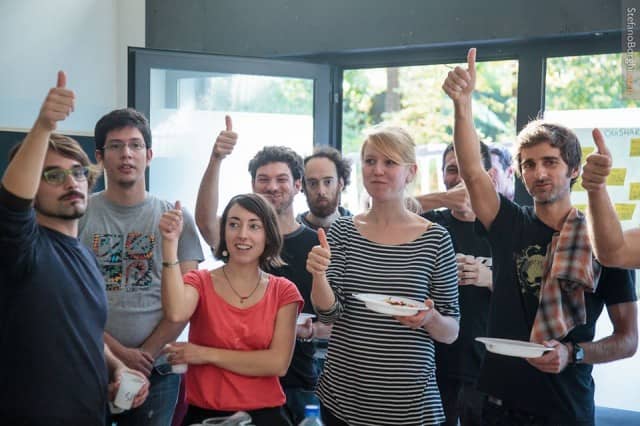 There were issues with people saying, 'Oh, these decisions were made, but we don't know how, or where'.
Now I'm like, 'Yay! I have a history!' I've already done it in threads, saying, 'Here's the link to the decision that we made on this date.' That's a really great feeling.
And it's really great for new people that join, to be able to see what has been discussed already. It's really critical to become more of a learning organisation.
Even though nothing will replace being in the same location and having daily interactions, tools like Loomio bridge the gap.
It makes it  a bit easier, a bit more feasible, to have groups distributed in several countries that can work on a shared vision, on common projects, and take decisions together. Because otherwise it's extremely hard to do that.
The next OuiShare Fest will be in Paris, May 18-20. Alanna was recently featured on OuiShare Radio. Get started with Loomio
Tags: Boards ouishare Videos Stories Articles and Interviews
---
Would you like to keep in touch?
Join the Loomio newsletter to hear about product updates, upcoming events and stories from organizations using Loomio.
Delivered every 2 or 3 months.