Moving beyond mobilization in Hungary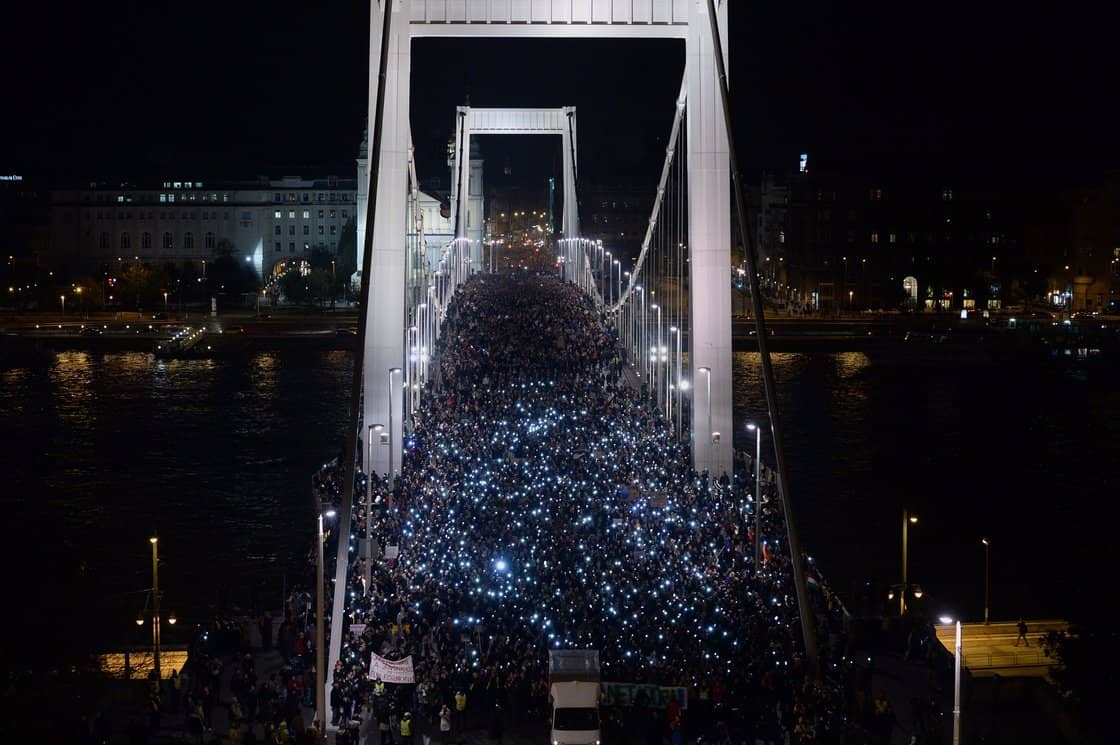 _By Ben Knight, co-founder, @Loomio @benjaminmknight _
Yesterday, 100,000 people mobilized in the streets of Budapest, in response to a proposed tax on Internet access.
"The Internet tax is a symbol of the government's authoritarianism – we not only need to defeat the Internet tax, we need to believe that we are capable of criticizing and influencing the state.'_
_ – Zsolt Varadi, speaking out in a crowd of close to 100,000 protesters in central Budapest yesterday.
Two years ago, large-scale protests in Hungary against education cuts turned very rapidly into a civic movement against an increasingly authoritarian government.
In early 2012, Loomio was still in closed beta and we weren't accepting new signups. All we had was a rough prototype, and our tiny team had no capacity to support new users. One Tuesday morning in February, a group request came in from a network of Hungarian student activists, who said they wanted to use Loomio because they were democratically organising in opposition to radical government education cuts.
I knew I wasn't supposed to, but I couldn't resist accepting the group request anyway. They got set up, rapidly became active, and within a few days had engaged hundreds of students from around Hungary in deliberative discussion about what action they could take.
The next day, we got a group request from a network of professors, teachers and academics, organising in solidarity with the Hungarian university students.
Again, I couldn't help but approve the group. they started organising and built momentum, rallying in support of the university students.
The day after that, we got a request from a nationwide network of Hungarian high school students, organising democratically to express their objections to government's proposed education cuts. The same thing happened. Within days, they had translated the whole Loomio app into Hungarian.
Over the next weeks, new groups formed, and hundreds of university students, academics, high-school students, teachers, professors came together to engage in the hard work of citizen deliberation and participatory democratic decision-making – co-creating the shared purpose of their movement, their principles, their strategy, right down to the daily logistics of civic protest organising.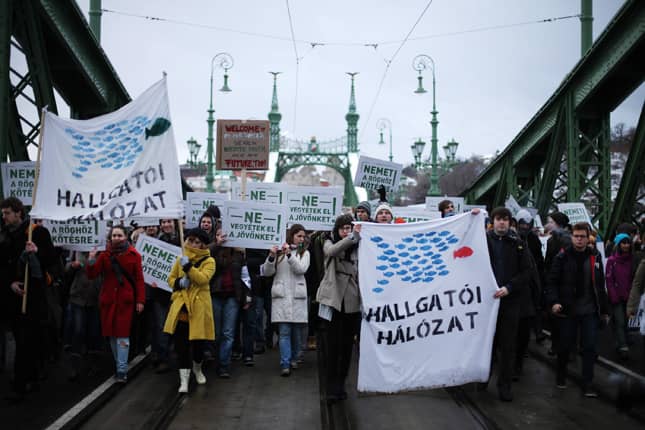 A few weeks into the movement, a pro-government journalist infiltrated the Hungarian student network's in-person meetings, posing as a student activist. He added an email address to a signup sheet, and was invited into their Loomio group.
That night, the 6 o'clock news in Hungary ran a story aiming to discredit the student movement. The students posted us a link to the video, joking that they had been doing some international advertising on our behalf – it was surreal to see the news clip, displaying screenshots of one of their Loomio discussions, slowly zooming in on highlighted provocative comments, stripped of any context, with a sinister tone playing in the background.
"In the months after we began to use Loomio, the screenshots of our group were already in the evening news of the pro-government media. This marks the importance of this kind of decision-making and the student network of Hungary as well."

– Karex from the Hungarian student movement, Halgatoi Halozat.
The online organizing on Loomio continued in concert with in-person grassroots movement-building, and after months of struggle involving university occupations and city-wide protests, the government backed down on the proposed education cuts.
And now people in Hungary are mobilizing again.
What's happening right now is about much more than a tax on Internet access. It's about restricting the ability of citizens to connect with each other, to exchange and access information, and to participate in civic life.
Hungarian Prime Minister Viktor Orban has said he wants to abandon liberal democracy in favor of an "illiberal state". The government has tightened its control over media, raided civil-society NGOs, and changed election rules to help Orban retain a constitutional majority in Parliament.
Open source developers, wherever they live, can help. We can build tools to support the collaborative capacity of these civic movements, providing tools that empower civic groups to move beyond mobilization, into sustainable constructive action – not just saying 'no' to oppressive regimes, but building the capacity to co-create better alternatives.
Tags: Stories
---
Would you like to keep in touch?
Join the Loomio newsletter to hear about product updates, upcoming events and stories from organizations using Loomio.
Delivered every 2 or 3 months.