Video: Loomio at Personal Democracy Forum 2014
• Written by Alanna Irving

The Personal Democracy Forum (PDF) in New York is an annual gathering of people from around the world working towards a free and open internet. In June this year, we were lucky enough to be invited to present Loomio at PDF, in a session on "The Future of the Public Internet". Ben Knight talks about his experience speaking at this amazing event.
This was the twelfth year that PDF has run, organised by the wonderful folk at Personal Democracy Media & TechPresident: Micah Sifry and Andrew Rasiej. It was a privilege to present alongside some seriously impressive individuals like Sue Gardner from the Wikimedia Foundation, and Anne-Marie Slaughter from New America Foundation. PDF14 also marked the launch of Micah Sifry's new book, "The big disconnect: Why the Internet hasn't transformed politics (yet), which is a compelling articulation of the need for online tech to go beyond mobilisation and into sustained collective action. "
During PDF in 2013, the first news broke about the NSA's mass surveillance that Edward Snowden brought to light. One year on, the theme of PDF '14 was "Save the Internet//The Internet Saves".
Kicking off the conference with Edward coming in by video-call to speak about "Surveillance and it's discontents" set a very close-to-home context to the whole thing. The notion that we're at a moment in history where the internet simultaneously has the potential to be a hugely liberating force for massive decentralisation of power, and the potential to be the ultimate tool for totalitarian repression on a scale we've never seen, seemed to flow through the whole conference. So the urgent challenge that came up again and again, is how we can protect the online freedoms we still have, while using the internet to build our capacity for long-term sustained positive change.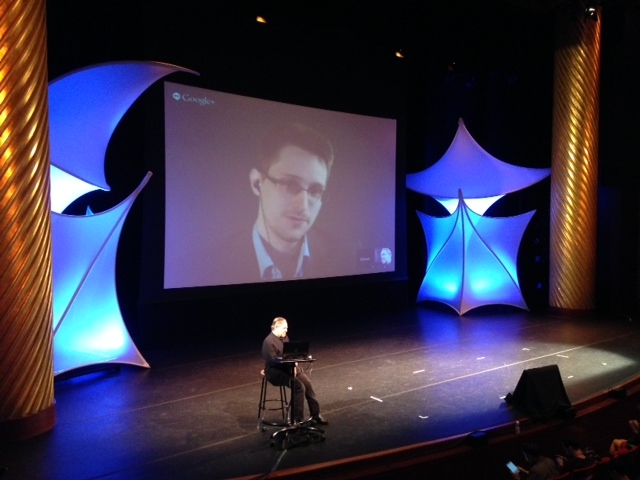 It would take a week to write a blow-by-blow account of the whole conference (that much great stuff to cover!), but I wanted to convey a couple of the highlights.
His central idea is that the internet in its current state is optimized to operate on a very short-term time signature (i.e. instant messaging, rapid mobilisation through social media like Twitter), and is ill-equipped for things that need to operate on a long time-scale. On the other hand, the political institutions that are most in need of change are really bad at operating with short time signatures, but their robust structures make them very good at operating with a long-term time signature.
Clay's call to action is that emergent social movements need to build the capacity to operate on both time signatures at once – rapid mobilization needs to be coupled with long-term strategy. Loomio fits perfectly into this analysis, providing infrastructure to support the long-term time signature needed for sustained action.
Techno-sociologist Zeynep Tufekci's amazing talk
In "Movements in a connected age: better at changing minds, worse at changing power", Zeynep articulately suggests that earlier (pre-internet) social movements were able to achieve more lasting change because the practical work of organizing (coordinating leaflet drops, etc etc) necessitated the formation of organizational structures and strong social ties – these structures and social bonds endured through a sustained effort (over the course of years), enabling the movements to develop long-term strategy for incremental change.
She calls this "organizational capacity". The immediacy of recent movements is great for initial mobilization, but "the problem with easy" is that it doesn't build organizational capacity. So again, in line with Clay's call to action about operating on a longer time-signature, the challenge Zeynep presented was moving beyond the internet's potential for immediate mobilisation, also using online tools to support the "hard work" of building organisational capacity necessary for sustained social change.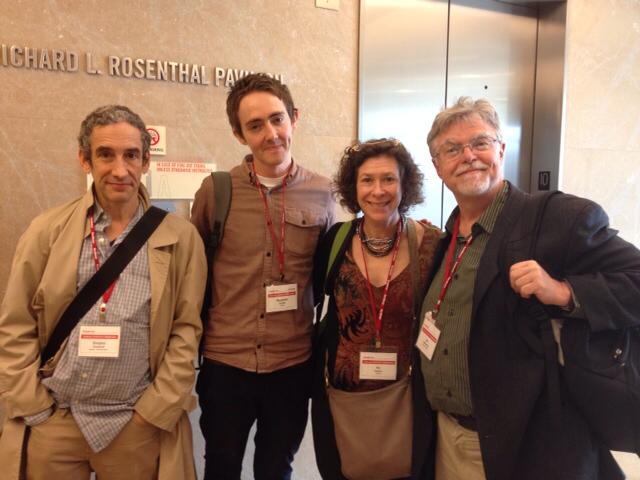 One of the best aspects to the whole experience was meeting some of Loomio's biggest supporters and inspirations. Here's me with Loomio member MJ Kaplan, longtime Loomio supporter and advisor Douglas Rushkoff, and author Jon Lebkowsky, who did some amazing work on networked democracy that was compiled into a book. He and was also one of the collaborators on a wonderful paper pulled together by Joi Ito on Emergent Democracy.
Loomio as "The Internet's Missing Link"
So that was the context I spoke into – on Micah's suggestion, framing Loomio (somewhat audaciously) as "The internet's missing link: tools for turning talk into action". For people who prefer text to watching a video, here are the notes:
There's lots of evidence that human collective intelligence is increasing exponentially, and the internet is playing a huge role in this, by speeding up knowledge exchange. But somehow our actions, collectively through institutions, are getting dumber and dumber – and it's jeapordising the future of the planet.
The Internet is powerful, but there's a gap when it comes to turning exchanged information into real-world constructive action. If the internet is a distributed global brain, the challenge now is to connect it with the distributed global body, so we can begin to take intelligent action on a world scale.
When the wave of new civic movements happened in 2011, it was the first time a social-media fuelled grassroots mobilisation had gotten people out on the streets in huge numbers. But this was the first step – like an infant in development, the social Internet's first word was 'No'. Moving forward, the next steps need to be about saying 'Yes'.
Decision-making is the bottleneck – we don't have online tools for crossing the decision point – this requires building shared understanding and agreement around a course of action that can then be implemented. That's where Loomio comes in – an inclusive online space engineered for building shared understanding and reaching agreement for collective action.
I'll cover some real-world stories here – linking the Hungarian student movement through to the use of Loomio in civic movements in Brazil, Ukraine and most recently Taiwan. I'll also mention the Wellington City Council citizen collaboration, and will touch on Generation Zero, the nationally distributed youth climate change action network in NZ organised through Loomio, who started taking its principles offline into their in-person meetings, calling the process 'Roomio' – demonstrating the online-offline interface (and feedback loop) that's so important for actually getting impactful things done in the real world.
I'd like to end on a call to action – basically laying out the risks of not beating this challenge. If we don't collectively make this happen, and soon, the space will be filled by something pretty scary – decisions will continue to be made by and for these crumbling institutions with very limited intelligence acting in their own interests and against those of most people. I'd like to emphasise that the solutions need to be public, and held in the commons. If the interface between online intelligence and real-world action is owned and controlled by private interests, corporate or government, we're in a bad place. So let's get in action, support the great public internet initiatives that already exist and build lots of new ones.
Some of the amazing PDF talks and works by the presenters you don't want to miss:
---
Would you like to keep in touch?
Join the Loomio newsletter to hear about product updates, upcoming events and stories from organizations using Loomio.
Delivered every 2 or 3 months.