We're at the World Forum for Democracy!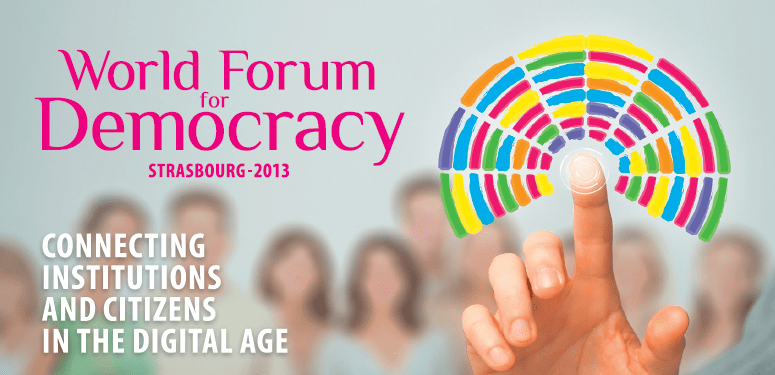 We've been invited to speak at the World Forum for Democracy in Strasbourg, which has been the catalyst for our trip to Europe.
Ben and Viv have zipped across the channel from London to attend and speak at the forum from 26–29 November. The focus of this year's forum is "Re-wiring Democracy: connecting institutions and citizens in the digital age", which, as you might imagine, hugely excites us!
The Council of Europe is bringing politicians, civil society leaders and groups such as Loomio together to nut out the future for democracy in the 21st century, and to debate and plan the kinds of changes that need to happen to fully embrace the opportunities and risks that technology brings to participatory democracy. There's a focus on how social media and networking can drive citizen participation in institutional decisions.
Ben and Viv will be heading up Lab 15 on "Digital Local Democracy", along with the Irish eParticipation platform, Puzzled by Policy, and a Spanish project, CitYsens, who are creating a non-partisan environment to foster municipal civic participation. They'll be discussing how to use technology to upgrade local democracy, especially at the local government level. Loomio are encouraged by the vision of a neighbourhood democracy, where anyone can participate in the decisions that affect them, in a non-hierarchical way, at any time. We have also directly experienced how this might work in reality, through the project we facilitated with the Wellington City Council earlier this year.
The lab will be structured as a debate, where participants will choose the best initiative to encourage citizen's participation for local democracy. Excitingly, some of the people who will be leading the discussion include Steve Clift from America, Founder of E-Democracy.org; Sorin Ionita,  research director for a Bucharest think-tank, Expert Forum; Toomas Sepp, who has been actively involved in the administrative reform of local government in Estonia and Tallinn; and Irene Muñoz Trujillo, director of Message and New Technologies of Mexico City. We're really proud to be talking with and alongside these amazing people from all over the world: it's sure to be a fascinating debate. We can't wait!
Remember that you can contact Ben and Viv through their Twitter handles, @maidaborn, @BenjaminMKnight and @loomioproject while they are away.
Tags: News
---
Would you like to keep in touch?
Join the Loomio newsletter to hear about product updates, upcoming events and stories from organizations using Loomio.
Delivered every 2 or 3 months.