Summit #10 Munich (14.9. - 17.9.2017)
David Weingartner
Public
Seen by 191
Thank you all very much for this lovley Summit in Munich!!!!
Please have a look at our reflextion, which you can find in the comments below :)
Looking forward to see you soon again!
---
The next international summit is around the corner! Please read this post to get all the important information you need.
Firstly, book your ticket here: http://ouisharesummit10.strikingly.com/
Booking ended on 3rd of September - If you have not booked yet, please contact us!
Everything you need to know
About the Venue:
We stay from 14/09/2017 till 17/09/2017 at the Ammersee.
Our location will be here:
Wartaweil 76, 82211 Herrsching am Ammersee
→ NO ATM nearby! Please take some cash with you :P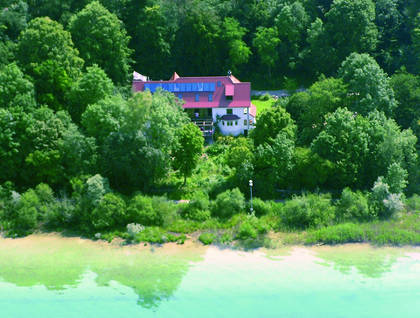 Arrival Information
Meeting point will be at the location latest at 2:30 pm, because the Inspiration Hike is going to start at 3:00 pm. You should not miss this, it will be great.
Feel free to arrive earlier that day.
If you arrive by car, there are some parking possibilities at the location.

If you arrive by…..
Airplane at the Munich (MUC) Airport or
Train at Munich Main Station (HBF) or
Bus at Munich ZOB at the Hackerbrücke
.... follow the green S-Bahn sign and take S-Bahn S8 to Herrsching.
Stay in the train until the end - Herrsching am Ammersee.
From the airport it takes 1,5 h and leaves at x:04 / x:24 /x:44.
From the main station it takes 50 min and leaves at x:05 / x:25 / x:45.
From the ZOB it takes 48 min and leaves at x:07 / x:27 / x:47.
In Herrsching follow the OuiShare signs or watch the Video to the bus stop and take the Busline 9653 to Wartaweil Ökostation (5 min ride). The bus operates at 12:00 am and 2:05 pm and you might need to buy an other ticket for the bus ride for around 4€.
If you can't manage to get on of these busses please let us know.
YEAH YEAH YEAH...if you managed to arrive. Here you gonna be safe and you will find one of us welcoming you!!!!!
If you can find 4 other OuiSharers to travel with you in the Munich Public Transport System, we recommend you to get a Group Ticket for 5 persons, that you can get from a ticket machine at the stations.
---
Departure day
PLEASE let us know when you need to leave on Sunday morning before 12:30 at Herrsching Train Station to take the S8 back to the city. On the Munich Public Transport page you can check out your needed connection: mvv-muenchen.de
---
Food and Drinks
We will take care of your wellbeing to have wonderful experience. There are only a few things that are NOT included in your Full Summit Pass:
Dinner in Andechs at the 14th.
"WURST-Pauschale" = 1) *BBQ meat (Saturday evening) & 2) Bavarian Breakfast Sausages (Sunday morning)
IF you wanna get the WURST-Pauschale there will be a list to sign in at the welcoming desk, and please take cash to the Summit, there will be now ATM near by.
---
Oktoberfest
Taking place on Monday, 18.09. from 12 - 18.00!
If you would like to join, contact @Francescapick. Tickets cost 36 €, and include food & drink.
---
What to bring? Don't forget
Swim wear
Shoes for a little Hike/Walk in the woods
Adapter if needed
towels
Sun and rain protection
slippers
mosquito repellent
"water" shoes (coz the ground of the lake is covered with sharp shells) *pijama *some warm layer ---
Keep in mind…
...if you are arriving before the 14th or leaving after the 17th you need to find a accommodation in Munich don't wait too long - on the 16th of September the OKTOBERFEST starts and the city is easily booked out.
---
Who is the Summit for?
Based on our learnings, it's very hard to work on organisation, strategy and existing Ouishare projects when you have many people in the room who are new to OuiShare and need to discover it first. So since it's been agreed that the objective of summits is strategy making, helping projects advance as well as knowledge sharing and training among the community, all newer members attending should be aware of this.
As a Connector it's crucial that you set expectations among your local members as to the objectives and purpose of the summit, to avoid confusion or disappointment. Think about which of your most active members should absolutely attend, as they will bring back lots of energy from the experience.
---